RED SHRIMP CURRY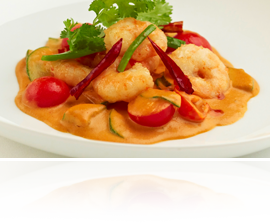 Ingredients (2 servings):
12 pcs. Yuu'n Mee Cooked Shrimps
12 pcs. baby eggplant
½ l creamed coconut
¼ l shrimp stock
red curry paste (10 g dried red chili peppers, 20 g fresh red chili peppers, 1 tbsp. lemon grass, 1 onion, 1 tbsp. chopped ginger, 3 lime leaves, 2 tbsp. tomato paste, 1 tbsp. fish flakes, 2 tbsp. fish sauce, 1 tbsp. finely chopped garlic, 1 tbsp. sesame oil)
Preparation:
Red curry paste: Finely grind together all ingredients with mortar and pestle. Keep puree cool. Bring creamed coconut and shrimp stock to a boil. Stir in red curry paste. Let simmer for 1 minute with shrimp and baby eggplant.
SAUTEED SEAFOOD WITH EGG NOODLES AND RICE CRACKERS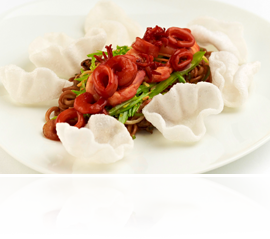 Ingredients (2 servings):
160 g Yuu'n Mee Seafruit Mix
160 g egg noodles, blanched
40 g white onion, finely chopped
10 g garlic, finely chopped
10 g ginger, finely chopped
8 tbsp. Wini Brugger's chili sauce or chili sauce from Asian food store
4 tbsp. dark soy sauce
10 crispy rice crackers
8 tbsp. sunflower oil
Preparation:
Slowly heat up sunflower oil in wok, and sautee onion, ginger and garlic until translucent. Mix in Seafruit Mix, and glaze with chili sauce. Add the blanched noodles and thoroughly sautee. Add soy sauce to taste. Arrange on a warm plate, and serve with rice crackers.
ORGANIC SHRIMPS ON STIR-FRIED VEGETABLES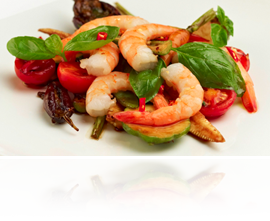 Ingredients (2 servings):
10 pcs. Yuu'n Mee Organic Shrimps or Hand-Selected Shrimps
60 g eggplant
60 g baby corn
40 g cherry tomatoes
40 g sugar snap peas
40 g Chinese cabbage
40 g fresh basil
20 g oyster sauce
10 g green chili pepper
2 tbsp. soy sauce juice of 2 lemons
20 g green onion
4 tbsp. sunflower oil
Preparation:
Slowly heat up oil in a pan, and thoroughly sautee the vegetables. Add oyster sauce, soy sauce, chili and lime juice to taste. Toss shrimp in the pan and complete the dish with the fresh basil. Serve immediately.
SPICY SHRIMP SOUP WITH WHITE RADISH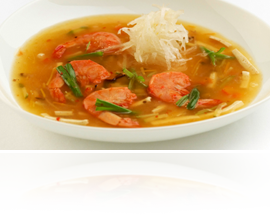 Ingredients (2 servings):
8 pcs. Yuu'n Mee Easy Peel Shrimps or Gourmet Giant Shrimps
½ l water or shrimp stock
20 g red curry paste
2 tbsp. sesame oil
10 g red chili pepper, finely chopped
40 g dried Shiitake mushrooms, moistened
10 g bonito flakes
60 g white radish, cut in strips
salt and pepper to taste
Preparation:
Slowly heat sesame oil in a pan. Sautee chili and curry paste. Add water or stock. Bring to a boil and then let simmer with shrimp and mushrooms for 2 minutes. Mix in salt, pepper, and bonito flakes to taste. Serve in a pre-warmed soup bowl and garnish with white radish.