Garlic Herb Shrimps with risotto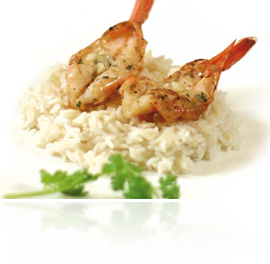 Ingredients (4 servings):
250 g Yuu'n Mee Garlic Herb Shrimps
1 small onion
4 tbsp. olive oil
2 tbsp. butter
280 g rice (risotto)
1/4 l white wine
1 l fish stock (canned) or vegetable stock
salt, pepper
Preparation:
For the risotto, peel onion and cube. Heat up olive oil and 1 tbsp. of butter in a pot. Sauté onion. Add rice and stir until coated. Add white wine and some salt. Continually stir in pre-heated fish or vegetable stock in small portions for a period of 20 min. In the meantime prepare Yuu'n Mee Garlic Herb Shrimps as preferred. Either bake in pre-heated oven for 10-15 min. at 220 °C, microwave 2-4 min. at 900 watts, or fry for approx. 10 min. in a pan. Before serving, salt risotto to taste and stir in 1 tbsp. of butter.
Tom Yum Kung Savoury Shrimp Soup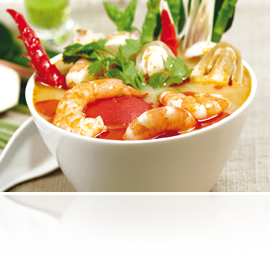 Ingredients (4 servings):
16 pieces of Yuu'n Mee Easy Peel Shrimp or Yuu'n Mee Gourmet King Prawns
150 g halved oyster mushrooms
3 fresh red chili peppers (slightly ground)
1 bundle of lemongrass, diagonally cut
1 T. chili paste
3 T. lime juice
3 cm ginger root
1 T. sugar
5 kaffir leaves, crumbled
3 T. fish sauce
750 ml chicken broth
250 ml coconut milk
a handful of coriander greens
Preparation:
Bring the stock to a boil along with the ginger, lemon grass and kaffir leaves. Then, add the chili paste, mushrooms and coconut milk. Next, season this mixture with fish sauce, lime juice, sugar, and chili pepper; allow to thicken for a new minutes at a medium boil. Finally, add the thawed shrimp and allow them to boil in this mixture for approx. 5 minutes. Serve with fresh coriander greens.
Pad-Thai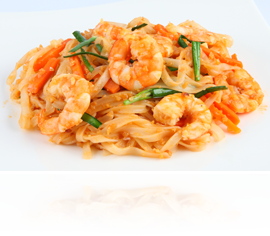 Ingredients (2 servings):
100 g noodles (rice noodles)
2 garlic cloves
100 g Tofu, firm
100 g Yuu'n Mee Gourmet King Prawns or Blanched Shrimp
1 bunch of scallions
50 g soy sprouts
4 T. sunflower oil
2 eggs
10 g tamarind paste, pressed
3 T. fish sauce
2 T. sugar
4 t. rice vinegar
½ t. chili powder
1 lime, cut into pieces
1 handful peanuts
6 T. water
Preparation:
First, soak the noodles in lukewarm water. In the process, soak the tamarind in a small bowl of water (6 T. water). In the meantime, peel the garlic and chop it finely Then, dice the tofu. Wash the scallions and cut them into 3-cm strips. Carefully wash the soy sprouts in a strainer and allow them to drip-dry. Roast the peanuts in a pan (without adding fat), and crush them. To make the seasoning sauce, knead the tamarind and run the juice through a fine strainer into a bowl. Then, add the fish sauce, sugar, rice vinegar and chili powder to the mixture. Heat 2 T. oil (peanut or sunflower oil) in the wok; then use it to sear the garlic, the tofu and the white pieces of the green onion. Now, pour the noodles off (although they should not yet be sodden, merely pliable) and add them to the wok. Then, stir them for approx. 2 min. in the wok pan. Next, add the seasoning sauce and the shrimp; while stirring continue to fry at medium heat until the noodles are soft and have completely absorbed the sauce. Push the wok contents to the edge in order to leave some room for the eggs. Beat the eggs in the wok and fry them while stirring. When the eggs are nearly done, mix them with the noodles. Add half of the sprouts plus the green part of the scallions, and continue frying for a short time. Then, serve with the remaining portion of raw soy sprouts, along with a slice of lime (for drizzling) and a large portion of chopped peanuts.
Shrimps with Garlic and white Wine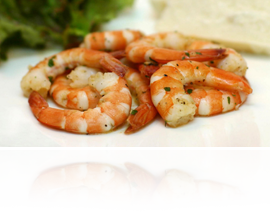 Ingredients (4 servings):
500 g Yuu'n Mee Cooked Shrimps
1 lemon
4 cloves of garlic
1 bunch of parsley
4 tbsp. olive oil
1/8 L white wine
salt, pepper
Preparation:
Defrost shrimps at room temperature or under cold water. Rinse defrosted shrimps and towel-dry. Spice shrimps with juice of the lemon, salt and pepper. Peel and finely chop garlic cloves. Wash and chop parsley. Pour olive oil into pan and place on high heat. Add shrimps and garlic, and fry for 2 min. Add wine and let cook for 2 min. Salt to taste. Garnish with the chopped parsley, and serve immediately with fresh white bread or rice.
Breaded Shrimps on leaf Salad with Mango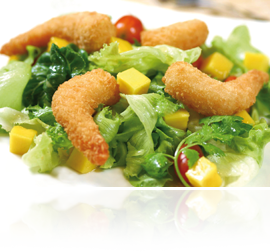 Ingredients (4 servings):
250 g Yuu'n Mee Breaded Shrimps 300 g mixed leaf salad 1 fresh or canned mango 2-3 tbsp. white wine vinegar 2-3 tbsp. olive oil 1 tsp. mustard ½ tsp. finely ground ginger 1 pinch of curry salt (or soy sauce), pepper
Preparation:
Wash salad mix and drip dry. Peel mango and cut into cubes. Prepare vinaigrette by combining vinegar, mustard, salt, pepper, ginger and curry in a bowl, and finish by mixing in olive oil. Prepare Yuu'n Mee Breaded Shrimps, as preferred, in convection or pre-heated oven (10 min at 200 °C) or in the fryer (2-3 min at 175 °C). Mix together salad and vinaigrette, and divide into four portions. Sprinkle mango cubes on salad. Before serving, place hot shrimps on top of the salad.