YUU'N MEE MANGROVE PROJECT
We consider "sustainability" more than just a fashionable word: For us, living in harmony with nature means putting back whatever you take away. That's why - in 2010 - we started making our own active contribution by kicking off the Yuu'n Mee Mangroves Project to promote reforestation of Mangrove forests.
The Yuu'n Mee Mangrove Project encompasses a "Five-Year Plan" for raising and planting mangroves - with the aim of raising a total of 131,000 Mangrove trees, planting them in select reforestation areas near the coast. This is how we want to help build up the mangrove forest as an ecosystem. After all, mangroves are not merely the "nursery ground" for most of the ocean's inhabitants - mangrove forests also serve as natural floodwalls - helping to regulate floods.
37.000 MANGROVES SAY THANK YOU!
A big thank you to all participants: The initiative Buy&Help in December 2012 was a great success! We are very happy that our customers have supported this project so strongly; the outcome helped us to achieve one fourth of the total amount of plants for the 5 year goal of the project! Have a look at this site from time to time to stay tuned.
For everyone who wants to know exactly what we're doing:
DETAILS ON THE YUU'N MEE MANGROVE PROJECT
The Yuu'n Mee Mangrove Nurseries
Until they are actually planted in the designated reforestation areas, the tree seedlings are kept in specialised nurseries. We currently operate 3-4 nursery gardens; the duration of cultivation is approx. 3-6 months. The tree seedlings are kept and cultivated year-round in the nurseries, then planted in specially-designated reforestation areas.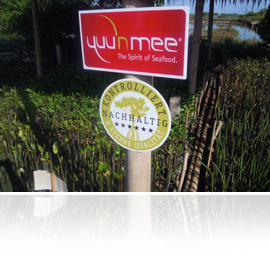 The Yuu'n Mee Mangrove Reforestation Area
Functional mangrove sanctuaries form preserves and biotopes for birds, fish, shrimp, prawns and other crustaceans - and thereby form a vital part of the ecosystem.
After 3-6 months, they are finally ready:
The young trees from our nurseries are planted on reforestation areas near the coast - this restores mangrove sanctuaries as a sustainable and specific biotope for numerous animal and plant species.
Here is where reforestation is taking place:
In Samut Sakhon Province, Thailand.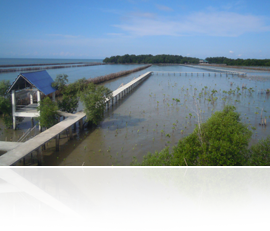 And who does all the work?
The Yuu'n Mee Reforestation Team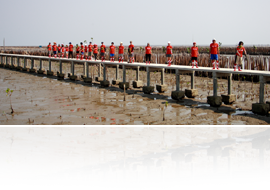 Our aim:
To plant 131,000 trees within five years in eroded stretches of land (in order to sustainably and actively promote the mangrove forest as a vital ecosystem.
The Yuu'n Mee Reforestation Team
Now - last but not least - a few photos of our team in action.
If you're looking for an ecological kick to your next holiday:
We are always glad to have active supporters! How about it?